Consumer Debit Cards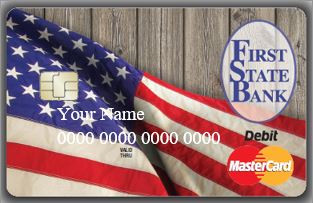 You won't receive a bill at the end of the month because you'll be spending money out of your bank account just like writing a check!
First State Bank Debit card can be used as a debit or credit anywhere that accepts MasterCard brand. Your Debit Card also works like an ATM card. This means you can access your checking account for cash through any ATM.
Our debit cards come with the new EMV chip capabilities but can still be used with the magnetic stripe for places not yet equipped to read chip cards. What is EMV? EMV stands for Europay, MasterCard, and Visa, the three companies that originally created the standard. EMV chip card transactions improve security against fraud compared to magnetic stripe card transactions. EMV cards have microprocessor chips inside which make it harder for anyone to steal your account information while you're making a payment. The microprocessor chip in your EMV card generates a unique code for each transaction. Your card can still be used by utilizing the magnetic stripe as before for those merchants not yet set up for EMV.
When you receive your monthly checking account statement, all of your card transactions will be listed along with location, date and amount. No matter where you are you will always have 24-hour access to your money without the risk of carrying a lot of cash.