Business Debit Cards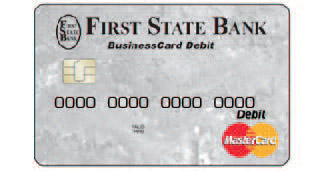 First State Bank is pleased to offer the BusinessCard Debit card. Our BusinessCard Debit will continue to give you the ease of using a debit card but with some extra added features.
Your business will be easily identifiable. Easily track your business expenses, assign up to 5 individual cards per business deposit account to employees, establish preset cash and P.O.S. limits up to our standard  limits, and assign individual identification numbers. Monitoring the card user activity and limits are in your hands!
Our BusinessCard Debit card comes equipped with the EMV chip technology and can be used as a debit or credit anywhere that accepts the MasterCard brand. EMV stands for Europay, MasterCard, and Visa, the three companies that originally created the standard. EMV chip card transactions improve security against fraud compared to magnetic stripe card transactions. EMV cards have microprocessor chips inside which make it harder for anyone to steal your account information while you're making a payment. The microprocessor chip in your EMV card generates a unique code for each transaction. Your card can still be used by utilizing the magnetic stripe as before for those merchants not yet set up for EMV. Stop in today to inquire about and pick up an application for your new BusinessCard Debit!